ASHWAGANDHA NATURAL, Maharishi Ayurveda, 60 tabs
Description
Maharishi Ayurveda Super Herb Ashwagandha - for more inner calm.
Ashwagandha is also known as "King of Herbs", Indian Winter cherry or Indian Ginseng Ashwagandha, and is considered as a rejuvenating plant in ancient Ayurvedic scriptures. It is also said to support with stress and general well-being.*
Ashwagandha is an ayurvedic rasayana known as the "Vajikar" herb that is said to nourish all the dhatus of the body, support mental and emotional wellbeing and is considered an excellent nerve tonic. *
This pure herbal extract is a must-have for a busy and stressful everyday life.

100% vegan

Lab-tested

Free from heavy metals & toxins

Pesticide, gluten, lactose & sugar free

No added colours, flavours & artificial additives

Non-GMO
Take 2 pieces of Maharishi Ayurveda products, and we'll give you 10% DISCOUNT.
Contribution to health
---
Ashwagandha has the following properties:
Laghu (light)
Snigdha (improves moistness of tissues)
Tikta Rasa (bitter in taste)
Madhura rasa (taste sweet)
According to Ayurveda, Ashwagandha balances increased Vata and Kapha dosha.
---
What Ayurveda says
---
(Ashwa = horse, gandha = odour). Ashwagandha got its name because its roots have the odour of a horse.
According to the ancient ayurvedic text of Charak Samhita, Ashwagandha affects the Balya (body strength) and Brimhaniya (body mass).
According to Ayurveda, Ashwagandha balances increased Vata and Kapha dosha and is known as an excellent nerve tonic and adaptogen that is also said to support mental and emotional well-being.
---
Specific features of our raw materials and processing methods
---
We offer a pure root powder from the Ashwagandha plant - no leaf extract is contained.
The root powder contains the highest concentration of full-spectrum alkaloids and withanolides.
Ashwagandha root powder is sourced from plants grown sustainably in an ideal climate, soil, and cultivation.
Free from controversial withanolide-A content.
Pesticide-free cultivation and free from heavy metals.
This herb has undergone stringent physico-chemical analysis and microbiological examination.
---
Directions
---
1 tablet twice a day with water.
---
Ingredients
---
The recommended daily dose (2 tablets) contains the following ingredients: Withania somnifera (Ashwagandha) 950 mg, starch (tapioca).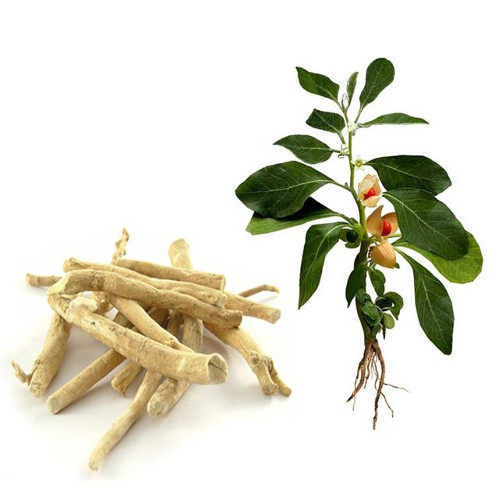 ---
What makes us unique?
---
Our Ashwagandha is sourced from Ashwagandha plants with the pure and highest form of a key ingredient called withanolides.
Free from withanolide-A.
No use of Alcohol and other chemical-based solvents in the preparation of Ashwagandha root powder.
No pre-treatments and processing make it suitable for vegans.
Prepared at manufacturing facilities with stringent manufacturing standards.
---
What makes us clean & green?
---
Pure Ashwagandha root powder sourced from carefully selected, best farmers.
Plants grown sustainably at the right temperature and climate for top quality herbs.
Frequent laboratory checks for heavy metals, pesticides, and toxins.
Packaged according to HACCP, GMP and ISO 22000:2018 standards.
Free from harmful solvents such as methanol, acetone, or N-hexane.
Ingredients:

Withania somnifera (Ashwagandha), нишесте от тапиока.
Ползвам продуктите Ви от поне 10-15 години Кофлет в първият му вариант и новите продукти, спасявали са ме без да ми се налага, антибиотично "лечение". Балсамите Ви за устни са ефективни и работещи при напукани устни. Новата Ви Аюрведична серия е с чудесни качества и цените са изключително разумни. Случвало ми се е да купувам пастите на Махариши на два пъти по-скъпи цени. Благодаря Ви! За мен е удоволствие да ползвам продуктите Ви!
Related products
PRICE FOR DELIVERY
---
The delivery price is calculated automatically according to the current Speedy tariff.

Free Delivery for Orders Over 60 BGN
---
The products ordered by you are paid by cash on delivery.

Online orders are accepted every day. They are executed during working days from 9:00 am to 4:00 pm from Monday to Friday.

The delivery of the ordered goods is made by Speedy's courier services at a user-specified address and at his expense, unless it is free of charge.

Deliveries are made only on the territory of Republic of Bulgaria. The delivery price for Bulgaria is listed in the table below and depends on whether you want a delivery to your door or you will get your own shipment from an office of Speedy courier. If there is no Speedy office in your settlement, you have to choose delivery to your door. If you live in a large city, please specify from which Speedy office you want to take your shipment in the delivery notes.

All prices include VAT and are in Bulgarian Leva / BGN /.

If you want to receive your order from our office in Sofia city (32 Ami Bue Street, Working hours: Monday to Friday 9:00 am – 5:00 pm), delivery price will not be paid. From our office, you can pick up your order the same day you make it upon request. Shipments which are not picked up from the courier offices for more than 10 days, we consider refused orders.

Orders are executed within 3 business days, depending on the place of delivery.

Speedy offices can be found here.
---