ACTIVE HERBAL INGREDIENTS: Aegle marmelos (Bael)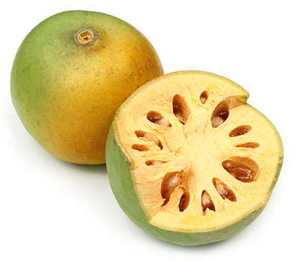 ---
HOW IT WORKS: Bael (Aegle marmelos) fruit helps in controlling blood sugar level in diabetics. Bael fruit extract is a good appetizer and has lots of nutritive value. Bael relieves constipation if taken regularly. Bael also helps in relieving diarrhoea and irritable bowel syndrome. Bael fruit is a hepatoprotective agent and provides relief from acidity.
---
WHAT IT DOES:

Helps in treating intestinal infection

Reduces symptoms of Irritable Bowel Syndrome

Treats diarrhoea
---
DOSAGE: One capsule two times a day or as directed by your physician.
---
SIDE EFFECTS: No side effects have been reported if used as per the directions of the physician.
---
CONTRAINDICATIONS: Do not take during the first trimester of pregnancy. Not recommended for children. To be avoided by pregnant and lactating women. Do not use if you are allergic to any of the ingredients.
---
CAUTION: Use of the product should be discontinued if hypersensitivity to the ingredient is noted.
---
Pack size: 60 capsules
---
Ingredients:

Съставки на 2 капсули (препоръчвана доза за дневен прием): Aegle marmelos (Баел)– 500 mg
Related products
PRICE FOR DELIVERY
---
The delivery price is calculated automatically according to the current Speedy tariff.

Free Delivery for Orders Over 60 BGN
---
The products ordered by you are paid by cash on delivery.

Online orders are accepted every day. They are executed during working days from 9:00 am to 4:00 pm from Monday to Friday.

The delivery of the ordered goods is made by Speedy's courier services at a user-specified address and at his expense, unless it is free of charge.

Deliveries are made only on the territory of Republic of Bulgaria. The delivery price for Bulgaria is listed in the table below and depends on whether you want a delivery to your door or you will get your own shipment from an office of Speedy courier. If there is no Speedy office in your settlement, you have to choose delivery to your door. If you live in a large city, please specify from which Speedy office you want to take your shipment in the delivery notes.

All prices include VAT and are in Bulgarian Leva / BGN /.

If you want to receive your order from our office in Sofia city (32 Ami Bue Street, Working hours: Monday to Friday 9:00 am – 5:00 pm), delivery price will not be paid. From our office, you can pick up your order the same day you make it upon request. Shipments which are not picked up from the courier offices for more than 10 days, we consider refused orders.

Orders are executed within 3 business days, depending on the place of delivery.

Speedy offices can be found here.
---